Housing Australia Future Fund will deliver "more of the same" for Aboriginal Victorians without legislated Aboriginal housing targets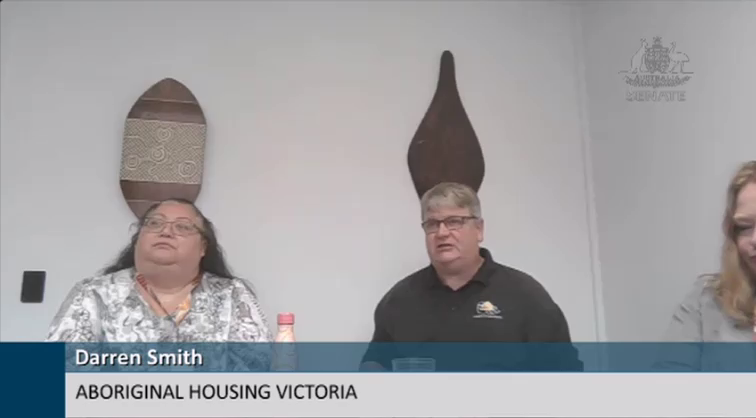 The Federal Government's Housing Australia Future Fund (HAFF) will fail to address the breadth of housing needs faced by Aboriginal Victorians unless 10 per cent of new dwellings are specifically provided for First Nations peoples in urban, regional and remote areas.
Speaking at the Senate Economics Legislation Committee on Wednesday, March 15, Aboriginal Housing and Homelessness Forum (AHHF) Chair and Aboriginal Housing Victoria (AHV) CEO Darren Smith said Aboriginal homelessness and housing was "so much more than overcrowding".
"Yet repeatedly, we see policies and initiatives that fail to go beyond this specific symptom of a broken and discriminatory housing system," Mr Smith said.
The HAFF will build 30,000 social and affordable homes in its first five years, and include $200 million for the improvement of remote Indigenous housing, $100 million for crisis and transitional housing and $30 million to build housing and fund services for veterans who are facing or are at risk of homelessness.
Mr Smith said any dwellings provided for Aboriginal and Torres Strait Islander peoples must be owned by Aboriginal Community Controlled Organisations who are housing providers, and that the 10 per cent housing target must be embedded in legislation.
"This target should be in addition to the $200 million investment already committed for repairs, upgrades and improvements to remote Indigenous housing," he said.
Mr Smith said as part of the HAFF's proposal to establish an Affordability Council to provide independent Government advice, there must be two seats designated for Aboriginal and Torres Strait Islander people with understanding of First Nations housing and homelessness.
He called for an Aboriginal advisory group to provide advice to Housing Australia and the Supply Council on development of mechanisms, models and vehicles to build Aboriginal housing to meet the target, for enhanced data collection on Aboriginal and Torres Strait Islanders as part of data sovereignty, and more investment in programs like AHV's More Than a Landlord.
"A safe, affordable home means our people can participate in all other areas of life – school, further education, work, and the broader civic community," Mr Smith said.
"Having a home is central to closing the gap."
Last week, the AHHF joined hundreds of housing and homelessness services across the nation to urge the Federal Government to pay its share of the Equal Renumeration Order funding, because not doing so would mean 200 Victorian homelessness staff are at risk of losing their jobs.
"The community that will bear the brunt of those cuts is ours," Mr Smith said.
-- ENDS--
Contact: communications@ahvic.org.au